webmaster
22 January 2023
Kumasi Technical University Graduate Students' Association of Ghana (GRASAG-KsTU) has held an election for new executives for the 2022/2023 academic year at the main Campus.
The Election is part of the process to legally dissolve the tenure of office of executives for the 2021/2022 Academic Year and usher into office new executives.
Mr. Frank Ampofo was officially declared the winner of the GRASAG-KsTU elections for the 2022/2023 Academic Year while Mr. Peter Dinko was also elected the General Secretary according to the Electoral Commissioner Mr. Antwi Edward Frimpong and the Dean of Students, Dr. Charles Obeng-Sarpong.
The President-elect polled 76.67% of the votes out of the total vote cast to secure a stupendous victory.
On declaring the results, Dr. Charles Obeng-Sarpong (Deputy Registrar - Graduate School) on behalf of the Dean of Students applauded the peaceful nature and massive voter turnout of students. 'Both the students and aspirants comported themselves and showed a lot of maturity during and after the electioneering period', he said. He further congratulated the newly elected leaders for their success.
In his victory speech, the President-elect, Mr. Ampofo, was grateful and privileged to be trusted with the leadership of GRASAG for the 2022/23 Academic Year.  He said he was confounded by the magnitude of votes and the show of support throughout the electioneering process. He further thanked his Vice President, Mr. Mark Osae Afful. He urged his colleagues to have confidence in him to make good on his promises and help him as they work hard to push GRASAG - KsTU to higher levels of prominence while achieving a lot of successes together.
According to the Electoral Commissioner, Dr. Antwi said that regardless of the challenges faced, the election still ended on a peaceful note.
Below are certified results declared by the EC: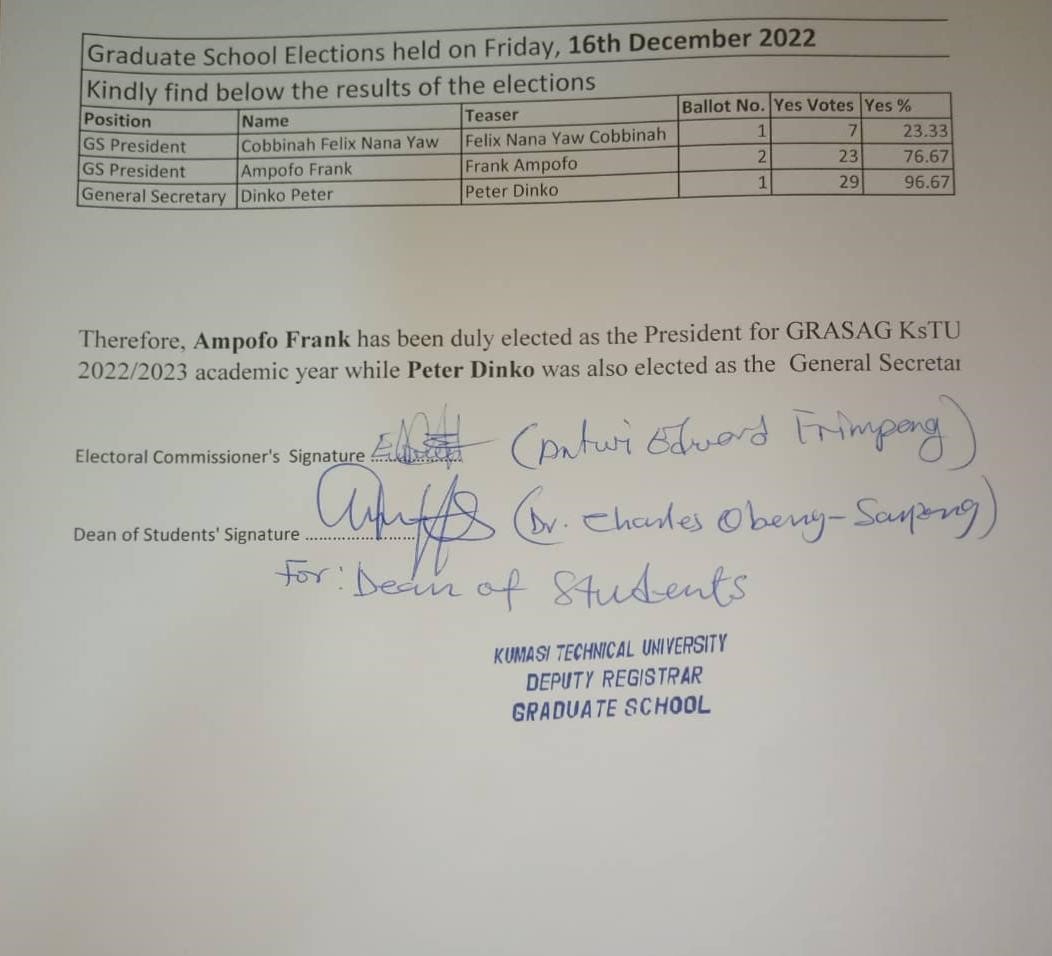 Source
University Relations Office